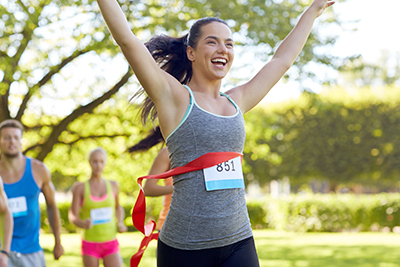 School students are the big winners in this year's Country Challenge on Campus – and the race hasn't even started yet!
The goal of the event is to encourage school and university students as well as community members to visit UQ Gatton Campus and help raise money for Beyond Blue during Mental Health Week.
Thanks to UQ Gatton's Halls of Residence, the male and female winners in the School Student category of the 10km with save almost half the cost of accommodation for their first year of studies at UQ Gatton campus – as long as they successfully apply to study at Gatton through the normal application process.
"We would like to encourage school students to experience life on campus at Gatton," explains Head of Halls, Simon Scott. "Even if it's only for one day to participate in the Country Challenge on Campus."
With accommodation being a major cost for any university student in Australia who doesn't have the luxury of staying at home while studying, the $4,500 fee reduction in first year for both the male and female school categories provides substantial relief for the first year of study at UQ Gatton.
While the University of Queensland has a number of scholarships for both future and current students, this prize provides another avenue to reduce costs for students wanting to study at Gatton Campus. The event is open to all school students, and the prize will be valid for three years, meaning if a year ten or eleven student is fast enough to win, they will still be able to benefit once they graduate from school.
Mr Scott feels that even one day of exposure to campus life will be enough to show students the benefits of selecting Gatton as their first preference when it comes to tertiary applications.
"The campus really is a peaceful and picturesque place, yet we also have great sports facilities, staff doing ground-breaking research in areas such as cancer treatment, we have a drone and precision farming program that is leading the world in some aspects, we have new facilities being opened and upgraded regularly and both our School of Agriculture and Food Sciences (15) and School of Veterinary Science (22) were ranked in the top twenty-five in the 2015 QS World University Rankings.
"For two lucky school students, they will have a fantastic boost to their first year at Gatton, but all the entrants will have the opportunity to participate in a fun event, raise money for charity and experience a little slice of life on campus – there really won't be any losers on the day!"
In addition to the Halls prize, University Students in the 10km will be competing for a $250 gift voucher at the Campus' Co-op Bookshop for the first male and first female, while community members and staff will be racing for a three month UQ Sport Gold Membership worth $250 for the first male and first female. The membership is valid at UQ Sport Gatton and UQ Sport St Lucia.
Event details for the 2016 Country Challenge on Campus
Where:
Registrations and start/finish in the UQ Gatton Campus Central Walkway
Presentations, post-race party and dive-in movie (courtesy LVRC) at the UQ Sport Fitness and Aquatic Centre
When:
Sunday, October 9, 2016.
Race kit collection starts from 2pm
5km starts 4pm ($5 students/$10 adults)
10km starts 4.30pm ($10 students/$15 adults)
Presentations start 6.30pm
Movie starts 7pm
Media:
Neil Donnelly, 0409 265 587, n.donnelly@uq.edu.au
UQ Gatton Marketing and Communications Manager