Accommodation (short stay)
Students wishing to live on the Gatton Campus while studying are encouraged to visit the Halls of Residence or Student Services websites.
UQ Gatton offers a variety of accommodation options, including rental housing (visit Accommodation Services website), and the Halls of Residence (visit Halls of Residence website) for long-term student accommodation. We offer a 14-room motel for people requiring overnight or short stay accommodation onsite. The Halls of Residence are also available for conference groups during non-teaching periods (4 week mid year and summer breaks only).
The Gatton Campus Motel is situated opposite the Veterinary Medical Centre, which may be ideal for owners with (animal) patients requiring overnight treatment.
The Halls of Residence boasts 436 rooms and is available as conference accommodation during non-teaching periods.
To discuss the facilities, enquire about availability or make a booking, contact the Conference Unit by clicking the contact button below.
Halls of Residence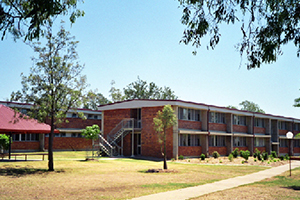 Conference accommodation in the Halls of Residence is only available during the University semester breaks in January, February, June, July, and December and is perfect for large conference groups.
Rooms for hire:
436 rooms – including 14 double and 16 single air-conditioned rooms.
Features:
Laundry facilities
BBQ area
Common room with a TV and pool table.
Shared bathroom facilities
Meals served in the Dining Hall
Small number of self-catered facilities available
Motel and Cottage
UQ Gatton Motel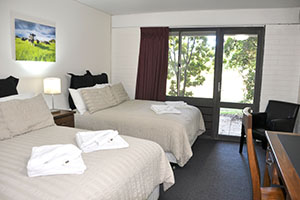 The Gatton Campus Motel consists of 14 rooms each containing two queen size beds and is best for short-term accommodation.
Rooms for hire:
2 family rooms (2 double beds and 1 pull out lounge)
12 double rooms (2 queen beds)
Motel features:
Separate kitchenette on ground floor
Free laundry
An adjoining meeting room
Daily pull-up service (Monday – Friday,  public holidays excluded)
Included in rooms:
Air-conditioning
TV
Fridge
All linen
Kettle and toaster
Tea and coffee
Hair dryer
Iron and ironing board
The Cottage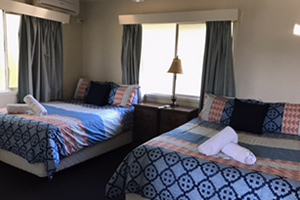 The cottage includes a kitchen, living room, bedroom and bathroom and is suitable for longer term stays (7 nights or more) and is fully self-contained. It is ideal for visiting academics or international students completing an internship.
Features:
Bedroom has two queen beds (linen supplied)
One fold-out lounge in the living room
Kitchenette (all cooking utensils supplied)
Air-conditioning and TV
Bathroom and laundry