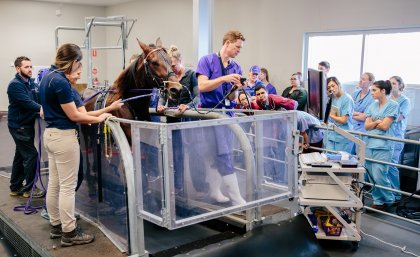 The effects of a breathing condition in thoroughbred and tall horses is set to be reduced by new University of Queensland treatment techniques.
School of Veterinary Science equine surgeon Dr Ben Ahern is investigating treatments for laryngeal hemiplegia, a degenerative condition known as "roaring" that restricts oxygen intake during exercise in horses.
"The condition affects approximately 1350 Australian thoroughbreds every year, as well as other breeds such as draft horses, and results in exercise intolerance due to obstruction of airflow," Dr Ahern said.
"This obstruction causes the characteristic whistling or roaring noise for which the disease is colloquially known."
Dr Ahern, has dual qualifications from the American College of Veterinary Surgeons and the American College of Veterinary Sports Medicine and Rehabilitation, and said the current surgical treatment had a 70 per cent success rate, but was associated with a variety of potential complications.
Recently researchers in the UK and USA have pioneered performing a standing surgery technique to correct the airway obstruction caused by the condition.
The standing technique that Dr Ahern performs at UQ VETS Equine Specialist Hospital is aimed at reducing surgical complications and optimising the horse's post-operative performance.
In addition to these recent improvements, Dr Ahern has recently developed a prototype prosthesis which could replace functional muscle and can be customised to individual horses' requirements.
Dr Ahern said the prototype had proved successful in pilot studies but was still only proof-of-concept and not yet ready for commercial production.
He said breathing problems in horses were always complex, but the recent advances and techniques improved the quality of life and athletic careers of horses.
Media: b.ahern@uq.edu.au, 61 7 5460 1799.