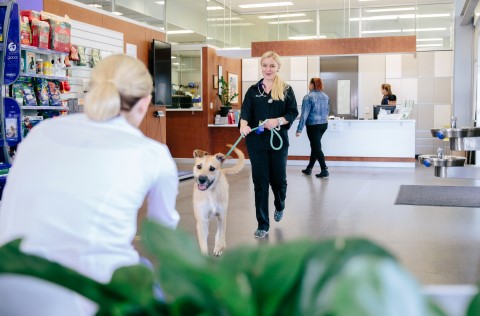 On World Veterinary Day (April 28), The University of Queensland is celebrating its contributions to the improved treatment and welfare of wildlife, equine, companion and production animals globally.
Head of UQ's School of Veterinary ScienceProfessor Nigel Perkins said in its 82-year history, UQ's veterinary staff, students and alumni continued to make innovations in public health, food safety, environmental protection, animal welfare and poverty reduction around the planet.
"For instance, UQ veterinarians partner with industry, government, communities and research organisations to improve biosecurity practices, herd health, and animal welfare to keep Australian and global stock disease-free, healthy, productive and tended to the highest standards," he said.
"UQ initiatives actively support productivity and welfare for the major Australian animal production industries  including beef and dairy cattle, sheep, pork and poultry which collectively contribute almost $2 billion to the Australian economy.
"Our vets have advanced the understanding and treatment of Q-fever, which affects animals and humans; developed vaccinations against Newcastle disease in chickens which has devastated less affluent countries; and improved livestock productivity and the welfare of export animals.
"UQ staff and students are also at the forefront of care and pioneering treatments for animals ranging from marine mammals, to koalas, and horses, and with 63 per cent of Australian households owning a pet, companion animals are an important research strength area."
Professor Perkins said as one of the largest veterinary science groups in the southern hemisphere,  UQ's globally-accredited School of Veterinary Science contributed to animal science, health and welfare through innovative, practical research, advanced veterinary services and successful industry partnerships.
"The community can be confident that with such an outstanding, capable and enthusiastic cohort of students and staff, the future of the veterinary profession is in safe hands."
Support for projects within the University's School of Veterinary Science can be made at: https://www.uq.edu.au/giving/donations/fund/School_of_Veterinary_Science
Media: Professor Nigel Perkins, hosvetsci@uq.edu.au, +61 7 54601 967