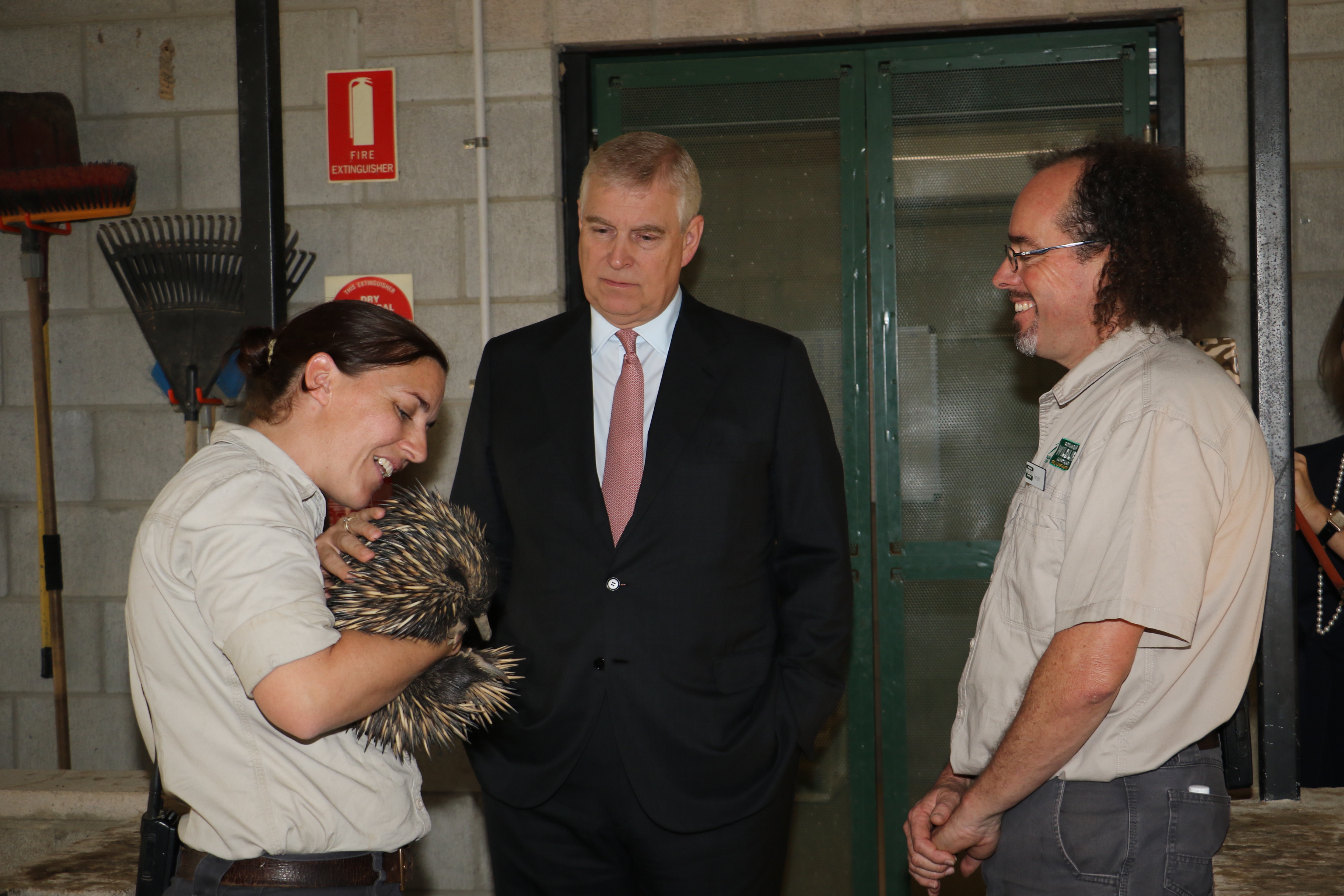 During his recent Australian tour the Duke of York visited the Currumbin Wildlife Sanctuary/University of Queensland echidna wildlife research facility at the Gold Coast, Queensland.
UQ School of Agriculture and Food Sciences reproductive zoologist Associate Professor Stephen Johnston said HRH Prince Andrew was shown a newly-hatched young echidna, called a puggle, in the pouch of an echidna as part of the breeding program.
UQ Gatton Bachelor of Applied Science graduate Lauren Clark, who is also a guest lecturer for a UQ course, ANIM3016 – Zoo Husbandry and Management – held the echidna for Prince Andrew.
"Up until a few years ago it was thought to be almost impossible to breed echidnas in captivity, and most births were somewhat accidental and unplanned," DrJohnston said.
Prince Andrew also saw the excellent work undertaken by veterinary staff to treat sick and injured wildlife and learn about endangered species which also include koalas and Tasmanian devils. To find out more about the Currumbin Wildlife Sanctuary see here.
To learn more about UQ's captive breeding echidna research, visit here.
Currumbin Wildlife Sanctuary's senior veterinarian Michael Pyne said the sanctuary was committed to conservation and research of native wildlife and was proud to work closely with UQ.
UQ in collaboration with Currumbin Wildlife Sanctuary and Professor Marilyn Renfree of the University of Melbourne was recently awarded an ARC-Linkage grant to improve echidna breeding success and better document echidna reproductive and developmental biology, which until recently has been limited.
Project opportunities are available for two talented PhD students (one at UQ; one at the University of Melbourne) who would like to work with the short-beaked echidna, to unlock the reproductive secrets of mammals that lay eggs.
Applicants can apply for a PhD scholarship at the University of Melbourne or The University of Queensland. Contact Professor Marilyn Renfree m.renfree@unimelb.edu.au or Associate Professor Stephen Johnston s.johnston1@uq.edu.au.
There will be an opportunity for both students to engage with Currumbin Wildlife Sanctuary staff and the public while working at the sanctuary and to be involved in their education programs.