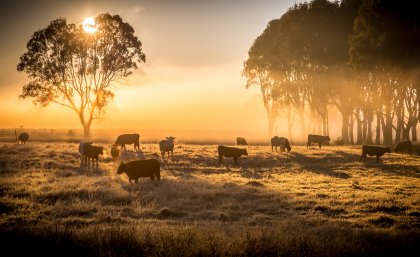 Global US food and animal safety company Neogen Corporation is establishing an animal genomics facility at The University of Queensland Gatton campus in a move that will reinforce UQ's capacity to support the livestock industry and animal breeders.
Acting State Development Minister Mark Furner today announced the move as part of the Government's $40 million Advance Queensland industry attraction fund.
"NASDAQ-listed Neogen Corporation, has chosen Queensland as its headquarters in Australia. It will invest in new laboratory facilities, equipment and infrastructure facilities and help position Gatton as the hub for animal and agricultural genomics in Australia," Mr Furner said.
"This is another step toward Queensland's goal of becoming a globally competitive biomedical hub in the heart of the Asia-Pacific, creating high-skill jobs of the future."
Neogen subsidiary GeneSeek AustralAsia is the company's first venture into the Australian market.
UQ School of Veterinary Science acting Head Associate Professor Jenny Seddon said GeneSeek AustralAsia would build on the work of UQ's Animal Genetics Laboratory, which had provided outstanding genotyping and diagnostic services to the Australian livestock industry since 1985.
"UQ and GeneSeek have worked closely together in the past, with GeneSeek supporting the Animal Genetics Laboratory to become the Australian supplier of state-of-the-art testing to measure genetic variations in livestock, and to identify inherited diseases within herds," she said.
"Today's announcement ensures that the livestock industry continues to access cutting-edge services in genomics in Australia."
Dr Seddon said UQ had a strong reputation as a high-quality provider of genetic services for research organisations, the livestock industry and breed societies.
"UQ's Animal Genetics Laboratory has grown enormously in recent years and last year it celebrated its 500,000th cattle sample, including poll gene marker tests to help breeders select the best breeding cattle for their herds and to breed hornless cattle to help industry end the painful practice of dehorning beef cattle," she said.
"The exciting new partnership will see the growth of genomic services available to the livestock industries.
"The establishment of a leading agribusiness corporation at the UQ Gatton campus provides an immediate showcase to undergraduate and postgraduate agriculture, food science and veterinary science students of the benefit of genomics to Australian innovation."
UQ Vice-Chancellor and President Professor Peter Høj said the partnership would combine the resources and expertise of a NASDAQ-listed multinational company with the research power of UQ to deliver results for Queensland and the world.
"With the global population predicted to grow to 9.8 billion by 2050 – increasing pressure on land and water resources – primary producers around the world face the challenge of how to do more with less, and with minimal environmental impact," Professor Høj said.
"Genomics offers a powerful way to improve the productivity, quality, diversification and resilience of plants and animals."
Media: communications@uq.edu.au, +61 7 3365 1120: Associate Professor Jenny Seddon, hosvetsci@uq.edu.au, +61 7 5460 1967.
read more school of veterinary science news