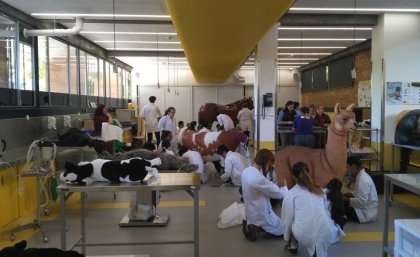 Veterinary students can now hone their clinical skills in a new $1.5 million training facility at The University of Queensland's Gatton campus.
School of Veterinary Science Chair of Teaching and Learning, Associate Professor Rowland Cobbold, said the new Student Clinical Skills Hub was designed to help students develop fundamental skills until they were confident they could demonstrate competence across the range of clinical skills required.
"The Student Clinical Skills Hub has a simulated client communications laboratory and access to a range of training models," Dr Cobbold said.
"Students can develop fine motor skills in procedural techniques such as suturing, and can work on cognitive, communication and diagnostic skills."
The Hub includes $60,000 worth of small and large veterinary animal models used for simulated teaching and facilitated self-directed learning.
Acting Head of School Associate Professor Jenny Seddon said the Hub would be available to Veterinary Science, Veterinary Technology and Science students, and would further veterinary clinical and animal handling skills teaching at UQ Gatton.
"Students' problem-solving abilities and clinical skills will be greatly enhanced by access to the advanced technology and high-impact educational activities offered in the lab space," Dr Seddon said.
Fourth-year Veterinary Science student Elizabeth James-Jenks said the Student Clinical Skills Hub was"a fantastic facility that has everything we need to practise all of our skills for our assessments but also life-long skills we'll need in practice".
Fellow fourth-year student Ryley Morgan-Williams said there was a wide-range of clinical education settings, from pharmacology to radiology, and it was relevant to life-learning, not just for passing assessments.
"I cannot promote this place hard enough as the most valuable resource available to us," Ms Morgan-Williams said.
"I would even go as far as saying it is more useful than all the textbooks in the library, because they cannot replicate a realistic clinical setting like the Hub can."
The project has been supported by a $40,000 donation from the Douglas Slatter and Elizabeth Chambers Endowment Fund, which will provide a further $60,000 of funds in 2017 and 2018.
Media: Associate Professor Jenny Seddon, hosvetsci@uq.edu.au, +61 7 54601 967.