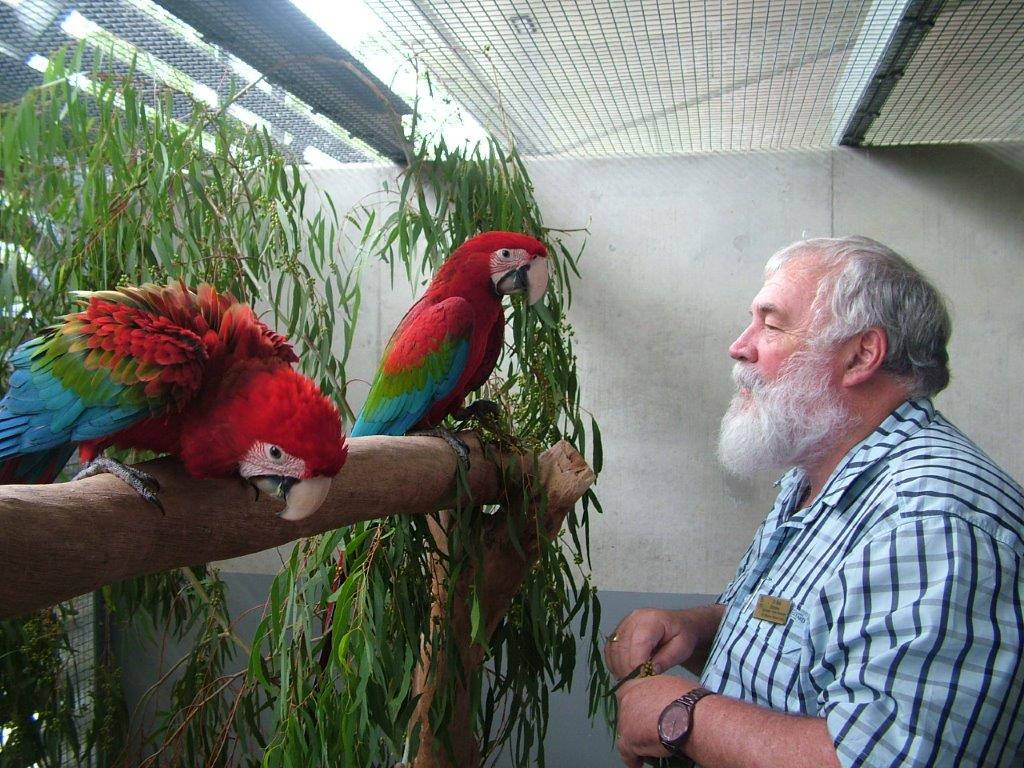 An average day at work for former Toowoomba veterinarian The University of Queensland's Associate Professor Bob Doneley can see him treating injured venomous snakes or applying braces to the beak of a South American macaw.
Or you might find him conducting routine health checks on birds; removing a cancerous kidney from a python; working on injured joeys; checking dental disease in guinea pigs; or teaching veterinary and veterinary technology students how to care for animals.
His patients come from as far afield as Mackay, Charleville, the Gold Coast and Tamworth – but most come from Toowoomba and the Lockyer Valley.
"Some are referred by their local vets, but I am happy to see 'first and second opinion' cases," he said.
Associate Professor Doneley, who heads The University of Queensland's Avian and Exotic Pet Service of the UQ VETS Small Animal Hospital at the Gatton campus, is one of only two registered bird medicine specialists in Queensland. He was the first in Queensland, gaining specialist status almost 15 years ago while in private practice in Toowoomba. 
He is passionate about birds, having kept and bred them for many years and treated them for more than three decades.
He is equally passionate about teaching the next generation of vets and vet nurses to care for them with skill and respect.
"I learned from the pioneers of bird medicine in Australia, as well as overseas. I like to think I am passing on their legacy as well as my own," he said.
Associate Professor Doneley said birds were among the most popular pets in Australia, and Toowoomba residents loved owning them.
"Last year Australia had an estimated population of more than 4.2 million pet birds, one of the most popular pet categories," he said.
This is compared to 7.5 million dogs and cats (combined) and 2.5 million other pets, including small mammals and reptiles.
His other great interest is the medicine and surgery of reptiles and small mammals such as guinea pigs and rats.
"They are fascinating animals to work with, and the excitement never fades," he said.
"The popularity of reptiles as pets is fueled by a misconception that reptiles will be less work.
"People think they are low maintenance and you only need to feed them now and again, but that's not the case.
"Most problems we see relate to poor husbandry, but there's been a shift in thinking about the role of vets, with pet owners increasingly viewing their role as keeping their pets healthy, not just treating them when they're sick."
The Australian Veterinary Association last year reported there were more than 24 million pets in Australia.
Australia continues to have one of the highest household rates of pet ownership in the world, with around 5.7 million of Australia's 9.2 million households, home to a pet.
"Toowoomba's pet-owning credentials are reflected in the fact that the city of almost 120,000 people supports 10 veterinary practices, plus one of the largest veterinary science groups – and one of the best equipped veterinary hospitals – in the southern hemisphere right on the city's doorstep at the UQ Gatton campus," Associate Professor Doneley said.
He is one of the nation's most recognised specialist vets. A UQ graduate, he worked in Bundaberg, Brisbane and the UK before opening his own practice in Toowoomba in 1988.
He sold his practice in 2010 to take up the position of Head of Service at the UQ Gatton Small Animal Hospital.
He was awarded a Fellowship of the Australian and New Zealand College of Veterinary Scientists (ANZCVS) in 2003, becoming only the third in Australia.
In the same year, he was awarded the ANZCVS College Prize for outstanding contributions to veterinary science in Australia, and in 2015 he was received the College's Meritorious Service Award.
He is also a Director of the Australian Veterinary Association, the country's largest professional organisation of veterinarians.
As well as teaching UQ and James Cook University veterinary students about bird and exotic animal medicine, Associate Professor Doneley has published two textbooks on bird medicine (one of which has been translated into German and re-published as a second edition), written chapters for five other textbooks and published numerous papers in veterinary journals.
His book on reptile medicine will be published later this year.
The UQ VETS Small Animal Hospital general practice at Gatton is open 8am-6pm Monday to Friday, with a round-the-clock  emergency service, telephone 07 5460 1788.
Media: Associate Professor Bob Doneley, r.doneley@uq.edu.au, +61 7 5460 1788.