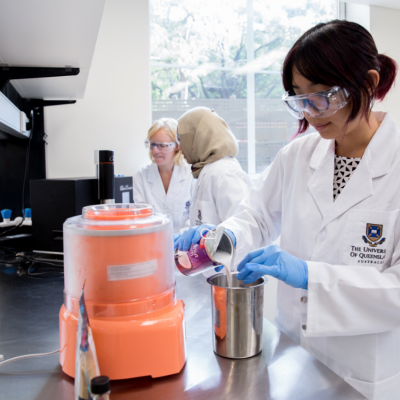 Australia's food-centric culture – illustrated by the popularity of dining out, healthy eating and television cooking shows – will benefit from a new $1 million facility at The University of Queensland.
UQ is serving up a smorgasbord of opportunity for the food industry with the opening of the new Food Science Innovation Precinct at the St Lucia campus.
Deputy Vice-Chancellor (External Engagement) Professor Iain Watson said UQ had worked hard to position itself as a research powerhouse in areas such as agriculture, land management, genetics and chemistry, which all feed into food innovation.
"UQ has the largest university food research capability in Australia and ranks at number seven in the world for agriculture research," he said.
"The Food Science Innovation Precinct is the icing on the cake. It will give students access to world-class training, innovations and facilities, and will ultimately help food companies create more innovative products." 
The Food Science Innovation Precinct has two state-of-the-art laboratories – a food-grade laboratory and an analytical laboratory for chemical and microbiological analysis.
Master of Food Science students will have the opportunity to work on a range of projects, including:
Cholesterol-lowering baked goods and dairy foods
Ultra-low-fat cheese that tastes like full-fat cheese
3D printed fruits
Fresher milk produced without heat pasteurisation
New Omega-3 and probiotic foods and drinks
UQ Business School Entrepreneur in Residence and UniQuest Commercial Director (Food) Cameron Turner said the new facilities would allow students to work on research projects in collaboration with food companies.
"The food industry in Australia is rapidly growing and evolving, largely driven by consumers who are willing to pay for taste and convenience and are better informed about health and nutrition through media channels," Mr Turner said.
"There's also an increased awareness of functional foods and the importance of our gut microbiota, and rising opportunities in Asia, particularly China, for Australian-made foods.
"All of these factors create excellent opportunities for food manufacturers, retailers and our researchers."
UQ announced in November a project to investigate if friendly bacteria could be introduced to bagged salad leaves to help ward off salmonella and listeria outbreaks.
Also on the UQ menu this month is Food Lab by Ben Milbourne, a novel international television series concept that aligns with high school science curricula.
The series, now airing on Channel Ten, features UQ graduate and 2012 MasterChef finalist Ben Milbourne serving up a fusion of science, education and food.
Media: Cameron Turner, c.turner@uniquest.com.au; Mark Turner, Associate Professor, Agriculture and Food Science, m.turner2@uq.edu.au, 07 3345 7364.