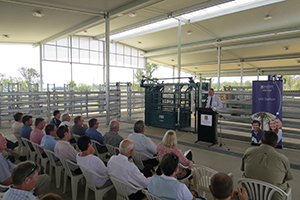 Pro Vice-Chancellor Professor Alan Rix has been joined by UQ Staff and beef cattle industry representatives at the opening of The University of Queensland's $1.7m Darbalara Beef Cattle Teaching Facility, 10km from the Gatton campus.
School of Veterinary Science Professor Michael McGowan said the new, state-of-the-art facility would be an important training centre for students in handling and production management of tropically adapted beef cattle.
The complex includes cattle yards and a teaching building on the 184 ha farm, which is also used for grazing and forage crop production.
"The Darbalara facility will significantly enhance the University's ability to provide high quality training in beef cattle production medicine for undergraduate students completing the Bachelor of Veterinary Science (Honours) and Bachelor of Veterinary Technology programs, and Bachelor of Agricultural Science (Honours) in the animal science stream," he said. 
"It will also enable researchers to conduct intensive experiments to develop proof-of-concept technologies which can be upscaled and used by large-scale commercial beef cattle operations.
"Associate Professor Kim Bryceson, Associate Professor John Gaughan, myself and others are investigating technologies to electronically monitor the health, wellbeing and performance of beef cattle, and enable remote management.
"We are investigating use of drones to monitor pasture and water availability and are also trialling electronic devices to monitor cattle grazing behaviour."
Professor McGowan said Darbalara would become the primary training site for beef cattle handling, husbandry and production medicine at UQ. Small breeding herds will be managed on the site.
The University will continue to conduct beef cattle research at its Gatton and Pinjarra Hills sites.
"The new Darbalara facilities will complement existing facilities at the Gatton campus and beef cattle training and research and will be integrated between the three UQ sites.
"The University's Droughtmaster herd is a foundation herd for the Droughtmaster tropical beef cattle breed in Australia, established by former UQ veterinary science Professor John Francis during his tenure from the 1950s to the 1980s with cattle donations from beef producers in northern Australia.
"As the Droughtmaster breed is now numerically the largest breed in northern Australia, UQ's herd is important historically and for conducting genetic research."
The University of Queensland's School of Veterinary Science is celebrating its 80th anniversary in 2016.
Media: Professor Michael McGowan, m.mcgowan@uq.edu.au, +61 7 54601 856.