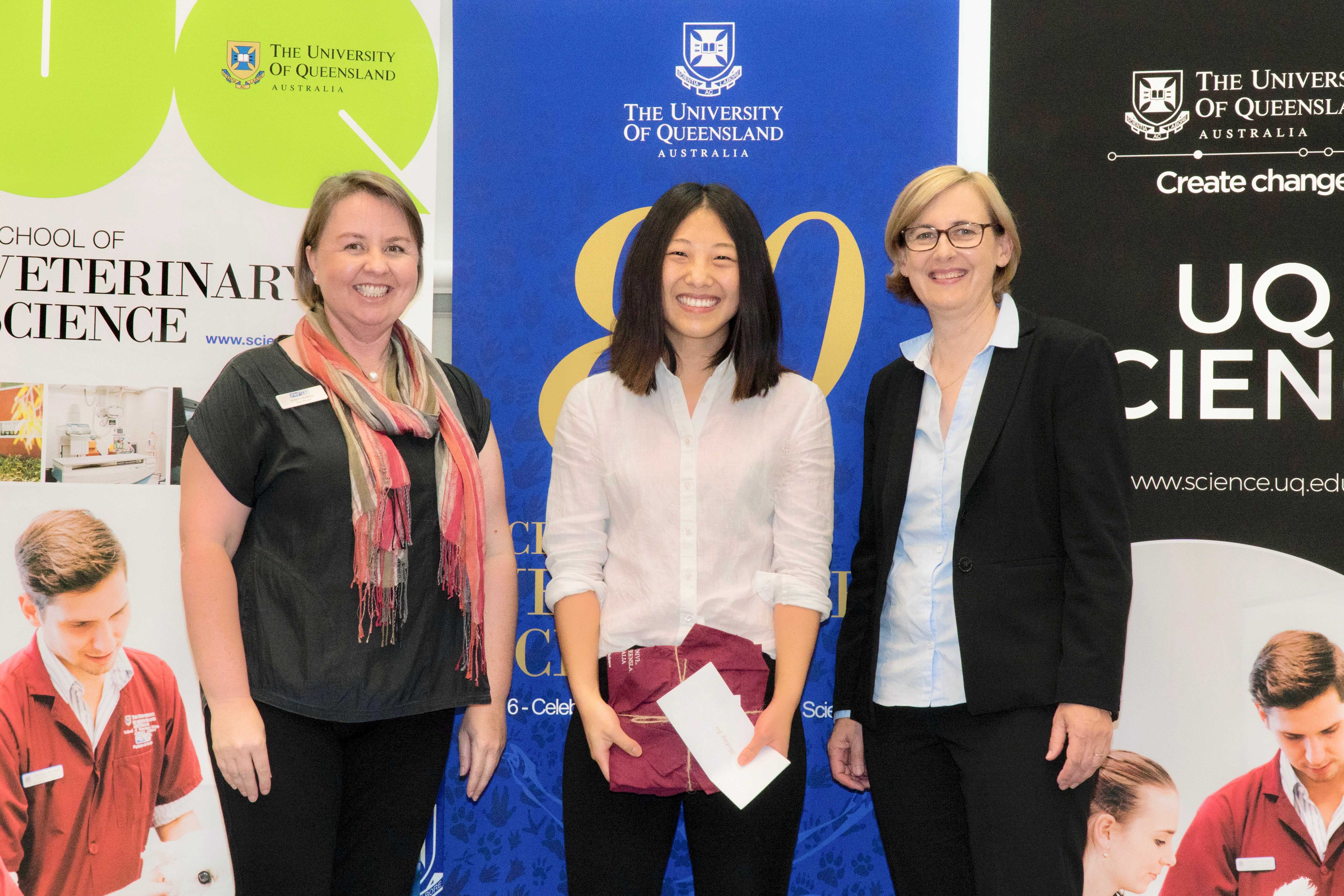 128 University of Queensland veterinary students have received clinical coats at a milestone ceremony during their academic careers, held recently at the University's Gatton campus.
Head of the School of Veterinary Science Professor Glen Coleman said the Clinical Coats Ceremony celebrated the important transition that UQ veterinary students made at the end of the fourth year of the Bachelor of Veterinary Science (Honours) program.
"This tradition marks a significant milestone in the lives of UQ students as they move towards primary responsibility for animal healthcare and communication with their concerned owners," he said.
"The ceremony also provides an opportunity to recognise the contributions made by staff, who have assisted in preparing these students in their first years of veterinary curriculum as well as our industry partners."
Australasian veterinary distributor Provet is a key industry event sponsor and provided the clinical coats.
Deputy Head of the School of Veterinary Sciences Associate Professor Jenny Seddon said this was the third annual Clinical Coats Ceremony.  
"It was our biggest ceremony ever with the Main Lecture Theatre at capacity with standing room only, and our students and their families enjoying the celebrations," she said.
"Receiving their clinical coats as they transition into the lecture-free clinical final year signals that the students have reached the culmination of their five-year program and will be stepping into the clinic as veterinary professionals."
Ms Reem Felemban and Ms Shuting Jin were among the students receiving their clinical coats.
During 2016, Reem and Shuting, with colleagues Christine Fraenkel, Samuel Kiernan, and Anjali Warrier, in conjunction with UQ Veterinary Student Association support, were instrumental in developing a peer-support network for veterinary students, Associate Professor Seddon said.
"The School also offers a range of professional development initiatives to support students in decision-making, ethical and welfare issues and coping with the long hours they might face in their careers," she said.
"Wellness is an important component of the curriculum and the School and the UQ Veterinary Students Association is very supportive of the student initiative which Reem and Shuting have developed and which will be implemented in 2017."
Shuting said she was "really excited to be starting the next stage of the degree and getting into the clinic."
"One of the things I'm proudest of this year was our successful launch of the peer support network which includes confidential peer counselling and community-building activities," she said.
"We've had professional development guest lectures on mental health awareness, an outdoor cinema night with the UQ Union, exam-time coffee and snack support, and recruited our first batch of peer counsellors.
"I hope that this program continues to grow in the coming years to serve and support our student community."
In addition to receiving their clinical coats, Shuting and fellow student Joss Kessels, were both winners earlier this year of Layne Beachley Aim for the Stars Foundation 2016 scholarships.