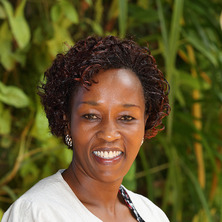 Dr Grace Muriuki, Research Fellow at the University of Queensland's School of Agriculture and Food Sciences, is the recipient of a grant from the Australian Academy of Science's 2019 WH Gladstones Population and Environment Fund.  
Dr Muriuki will use the grant to study food security in rural and remote indigenous communities of The Pilbara and the potential for resource corridors in local food systems.  
"It is well-known that the benefits and burdens of mining are distributed unevenly within remote communities, "Dr  Muriuki said.
"Studies have shown differential spatial patterns in economic and social dimensions of employment and income, housing access, education and skills training, public services, and non-mining business growth among different communities within resource-rich environments.
"The research is aimed at identifying actions to maximise the potential of targeted corridors to disrupt systemic barriers to food insecurity in select remote communities."
The WH Gladstones Population and Environment Fund offers support for empirical research into how the size, distribution, material aspirations and other characteristics of Australia's population are likely to affect our environment. More information about the fund.
Media: Dominic Jarvis, dominic.jarvis@uq.edu.au, +61 413 334 924.