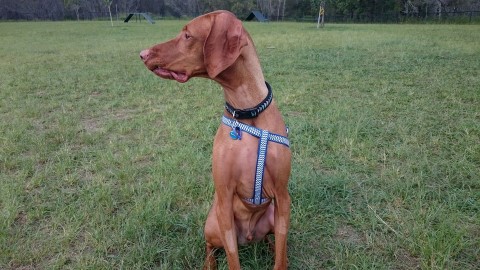 A canine client and his owner are breathing (and sleeping) easier thanks to an innovative procedure performed by the UQVETS specialist team from the University of Queensland's Small Animal Hospital.
Louis, a gentle Hungarian Vizsla dog was presented for treatment at UQVETS, unable to breathe through his nose and producing marked respiratory noises.
School of Veterinary Science veterinary researcher and specialist Dr Erika Meler said: "Louis was able to breathe open mouthed, but could not breathe through his nose, making lots of noises and showing discomfort."
"Before he was referred to UQ Vets, Louis had undergone anaesthesia and had regurgitated stomach contents into the back of his nose," said Dr Meler, practicing as Small Animal Internal Medicine specialist at UQVETS.
"Due to the acidity of that content, the mucous membranes in the back of his nose became inflamed and when healing, had formed scarring tissue blocking the passage of air."
"A scan of Louis' head, followed by an endoscopy of his nasal passage, confirmed a diagnosis of 'nasopharyngeal stenosis', which was treated doing intermittent procedures using special balloons that can be inflated in the nasal airway passages to open up the stricture."
"While this helped initially, recurrence of the problem required the implementation of a longer-term solution. This involved fitting a custom-made metallic nasal stent to keep Louis' nasal airways passages permanently opened. Main goal was to improve Louis' quality of life for his many years to come."
"Louis' owner called two weeks after the procedure and confirmed he was finally sleeping with his mouth closed and no longer snored. They were happy to see him live a more normal life!"
Dr Meler, who trained overseas in minimally invasive techniques, works with a network of highly skilled colleagues in anaesthesiology, surgery, critical care and imaging, to reach the best patient outcomes. She is particularly keen on minimally invasive techniques as these decrease the need for aggressive surgical procedures, but also morbidity and hospitalisation times for the benefit of the pets.
Learn more about the UQVETS Small Animal Internal Medicine Service, or contact the UQVETS Small Animal Hospital.