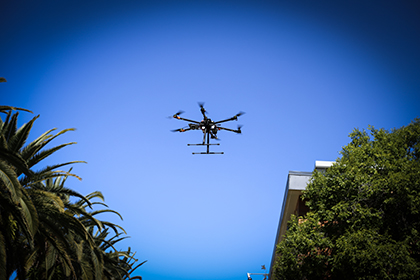 The University of Queensland has cemented its place as the top university in Australia for environmental sciences and agriculture in the QS World University Rankings by Subject 2017.
Executive Dean of Science Professor Melissa Brown said UQ ranked at number one in Australia in these subjects and globally, UQ was ranked in the world's top 20 universities in environmental sciences (12th) and agriculture and forestry (19th).
"This is the third year in a row that UQ has ranked in the top 20 globally in environmental sciences and agriculture in the QS subject rankings," she said.
"These outstanding results are not achieved without listening to our markets, planning, hard work and expertise, and reflects the quality of our offerings. We congratulate everyone involved.
"UQ was also ranked at number two nationally in biological sciences and number three in veterinary science – a great result for the UQ Faculty of Science."
Head of the new School of Earth and Environmental Sciences, Professor Jonathan Aitchison, said the the development of this new school mirrored UQ's recognition of the global significance and institutional standing of this important area.
"The new school will provide innovative and exciting opportunities for involvement in research-led studies," he said.
"Through interconnected teams, the School is delivering practical solutions to the complex issues affecting our physical environment.
"Our programs include Environmental Science and the related area of Environmental Management."
Head of the School of Agriculture and Food Sciences, Professor Neal Menzies, said the School was attracting a growing number of students from the domestic market, a reflection of the very strong job market and increasing starting salaries in the agricultural sector. 
"Internationally we are also attracting more students, and I attribute this partly to the strong UQ rankings, but also to the focus of UQ agriculture on the tropics – we can easily be seen as the world's leading tropical agriculture university," he said.
"Our standing as a high quality science university that can rapidly translate research to improvements in the field is increasingly recognised. 
"For the developed world this is reflected in increased research funding from the large corporates such as Monsanto and Bayer, while for the developing world it is reflected in increased research funding from the Bill and Melinda Gates Foundationand from the Australian Government through ACIAR."
In the past year UQ has been confirmed as the top institute in Australia in the Nature Index 2016 Australia and New Zealand; placed 43rd globally and third in Australia in the Performance Ranking of Scientific Papers for World Universities; and jumped 22 places in the prestigious Academic Ranking of World Universities, to rank 55th globally and second in Australia. UQ's performance in a range of international rankings is here.

To learn more about studying at UQ visit future-students.uq.edu.au, and for information about study opportunities in environmental sciences and agriculture at UQ visit: https://sees.uq.edu.au and https://www.uq.edu.au/agriculture/
UQ rankings: https://www.topuniversities.com/subject-rankings/2017
UQ News story: https://www.uq.edu.au/news/article/2017/03/uq-sports-and-mining-lead-qs-subject-rankings-blitz
Media: Professor Neal Menzies, safs_hos@uq.edu.au, +61 7 5460 1047 (Gatton) or +61 7 3365 1174 (St Lucia); Professor Jonathan Aitchison, sees.hos@uq.edu.au, +61 7 3346 7010.