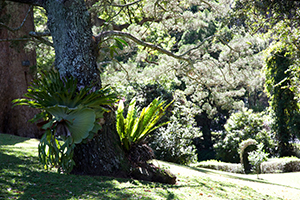 This magnificent garden, forest and park, covering six hectares, was established as a private garden by leading Toowoomba citizens Leslie and Margaret Boyce over almost sixty years, and was given by them, in trust to The University of Queensland, for the enjoyment and education of the people of Australia.
Development of the Gardens
The Garden was envisaged and developed by Leslie and Margaret over most of their lifetime. This involved not only research and design, but also tremendous amounts of sheer physical labour on their part.
The land comprised a spur of eucalyptus woodland running south from Mt Lofty on its northern border, a scrap of natural rainforest and a run-down dairy farm, including one cultivated paddock. On this area Margaret designed a house site, drive and surrounding terraces, and the couple then set about remoulding the spur. In developing the garden, the Boyces were well ahead of their time, applying new ideas which are admired today.
For details of the work they carried out, see How The Garden Grew.
The Future
The Gardens will stand for all time as a tribute to the foresight, dedication and sheer hard work of Leslie and Margaret, and the University has gratefully assumed the task not only of maintaining the gardens but also of developing them as a source of education and delight for the Toowoomba community and for visitors from elsewhere in Australia and from overseas.
Boyce Garden Opening Hours
9am - 4pm daily