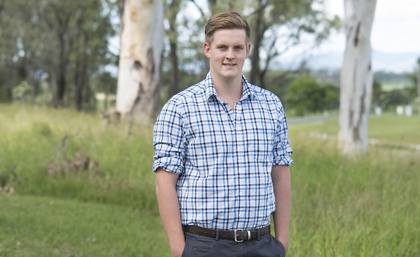 University of Queensland Gatton Campus student, Charlie Wells, has been selected as one of nine Rural Bank Scholarship recipients who will receive financial support to the value of $5,000 to help fund his double degree in Agribusiness and Sustainable Agriculture.
Growing up on a cattle farm in Moree and working on numerous other farms in the area, Charlie has been involved in agriculture for as long as he can remember. Spending his gap year as a crop scout, Charlie was given the opportunity to work with and learn from numerous different agronomists which inspired his discipline selection for the double degree.
"During my gap year, I was exposed to diverse environments and developed a passion for soil science. It's an exciting industry to be involved in, and I'm particularly fascinated by the increasingly prevalent role technology is playing in finding solutions to many of the issues faced by agronomists," Mr Wells said.
"After completing my studies, I hope to head to the Riverina region's developing cotton fields to work directly with farmers as an agronomist. I'd like to build strong relationships with growers and assist them in improving their crop quality and productivity."
Managing Director and CEO of Rural Bank, Alexandra Gartmann, said she was encouraged by the volume and quality of applications received, and was particularly heartened to see their determination and commitment to contribute to the sector.
"The future of Australian agriculture is absolutely dependent on the development of a new generation of rural leaders, and we're firmly committed to supporting youth as they take the first steps in their journey within this dynamic sector," Ms Gartmann said.
"Access to tertiary education continues to be a significant barrier for the many driven and talented young people living in rural and regional communities. However, it is scholarship schemes such as this one that help bridge the gap and provide students with the vital financial support they need to embark on their studies.
"It is abundantly clear from the 136 applications received this year that Australian youth are passionate about the sector. We've seen a significant jump in female applications for the program as well as an increased appetite to explore alternative avenues to engage in agriculture through courses such as the behavioural sciences."
Scholarship recipients will receive financial support to the value of $5,000 for the first year of their studies to contribute to the costs of accommodation, course materials, equipment and tutoring. Subject to academic performance, scholarship funding will also be extended to support a second year of study.