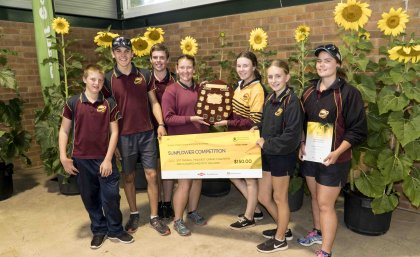 Nanango State High School outgrew all the competition in this year's annual Sunflower Competition, taking the overall grand champion and an additional four awards.
The Year 7 to 10 group in the fertile South Burnett locality grew a giant sunflower weighing 3.463kg, which topped a weigh-in at UQ Gatton campus.
Nanango State High School is one of 86 high schools from across Queensland, New South Wales, Western Australia, South Australia and Victoria who participated this year, with 3826 students taking part in the classroom.
Fifteen schools were able to attend The University of Queensland for the annual Sunflower Competition Weigh-In Day.
The students have been growing their sunflowers over a 12-week period, aiming to beat the record weight of 4.455kg set by Mueller College in 2014.
Since the initial planting date of 28 February, students have grown potted sunflowers at school, experimenting with different soils, light regimes, water applications and fertilisers, and considering environmental factors such as weather and growing conditions in their region and how this affect sunflower growth.
In addition to the formal presentations and announcement of the 2017 winners, the budding agriculturalists and their teachers will tour the Gatton campus, hear from industry representatives and participate in science activities.
The competition, now in its 18th year, promotes the science behind agronomy and horticulture.
It is an interactive learning opportunity to encourage a new generation of plant scientists to uphold Australia's position at the forefront of agricultural production.
Teachers use the competition to deliver the science curriculum in a plant-based context.
Schools in remote and regional areas who cannot attend the weigh-in day are encouraged to enter the Communicating Science category of the competition.
The UQ Sunflower Competition hosted by UQ's School of Agriculture and Food Sciences is sponsored by Dow AgroSciences, The Australian Sunflower Association, Pacific Seeds, NuSeeds and the UQ Gatton Past Students Association.
2017 competition results
Overall Grand Champion Nanango State High School Years 7-10, 3.463kg
Tallest Sunflower Prize St Edmunds College, Ipswich, Group 7-9, 2.56m.
Most Ornamental Sunflower Prize St Aidan's Anglican Girls School, Year 8
Encouragement Award 1 Taroom State School, Year 9
Encouragement Award 2 Genesis Christian College, Years 10-12
Heaviest Sunflower Category Years 7 to 10
1st Nanango State High School, 3.463kg
2nd Glasshouse Christian College, 3.284kg
3rd Nanango State High School, 3.122kg
Heaviest Sunflower Category Years 11 and 12
1st Nanango State High School, 3.032kg                                
2nd Nanango State High School, 2.579kg                
3rd Laidley State HIgh School, 2.056kg
 
Media: Jackie Mergard, j.mergard@uq.edu.au , +61 7 3365 3634.