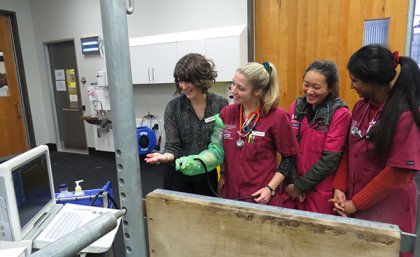 Australian Veterinary Association President Dr Paula Parker has shared her passion for working with animals with the next generation of vets at the University of Queensland's Gatton campus.
Dr Parker, a UQ alumnus, met staff and students during an international accreditation visit to the School of Veterinary Science.
She said she was delighted to return to the institution where her diverse career – as a clinician, emergency and critical care vet, education consultant and a veterinary director – began.
"I'm so proud to be part of the University of Queensland alumni, seeing the calibre of our future veterinarians and the educational opportunities on offer to them," she said.
"The facility UQ has built at Gatton is outstanding.
"When I left in 2008, we could see the promise that the move to Gatton held for the Veterinary Science program.
"It's a privilege to be back as President of the Australian Veterinary Association, and to see that this promise has come to life."
Dr Parker said quality of education was key to the reputation of Australian veterinarians internationally, and to their role as leaders of animal health and welfare.
 "The AVA is the leading provider of veterinary education in Australia post-graduation, and in the last year we have trained over 12,000 delegates through our programs.
"Working collaboratively with UQ, we can ensure that veterinarians have access to the highest quality of education post-graduation, and the knowledge they need to succeed in the multiple potential career pathways that veterinary education offers."
UQ School of Veterinary Science Head Professor Nigel Perkins said communication with peak bodies such as the Australian Veterinary Association was critical for students and the University.
"Over 95 per cent of our graduates enter private veterinary practice immediately after graduation, so feedback from the profession is incredibly important for our students," he said.
"UQ is very interested in receiving input from industry, as it helps us form the structure and content of the Bachelor of Veterinary Science.
"This collaboration ensures we can continue to make our program relevant to future employers and arm students with the skills and knowledge needed in the future workplace."
Image above left: (L-R) Dr Paula Parker, Professor Nigel Perkins and Associate Professor Bob Doneley visiting the UQVETS Small Animal Hospital.
Media: Professor Nigel Perkins, hosvetsci@uq.edu.au, +61 7 5460 1967; Natalie Howard (AVA), natalie.howard@ava.com.au, +61 451 984 860; Dominic Jarvis, dominic.jarvis@uq.edu.au, +61 413 334 924.