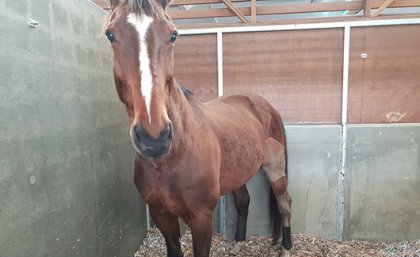 Horses are sleeping easy at the University of Queensland VETS Equine Specialist Hospital, thanks to a sustainability initiative.
The Agribedding project transforms used cardboard boxes - from UQ's Gatton campus and beyond - into bedding material for horses and foals.
UQ VETS Business Manager Mariki Visser said the initiative had multiple benefits.
"From an environmental perspective this is a fantastic project, but it's also resulted in savings of $100,000 per year in beddings costs for the hospital," Ms Visser said.
"The bedding is dust-free and absorbent, which makes it better for animals with respiratory issues and also makes it easier to clean the stalls.
"The used product can be composted on site, and unlike alternatives such as sawdust, it requires little nitrogen to decompose, potentially giving us a great resource in the future."
The initiative was originally developed by the 2017 cohort of UQ Bachelor of Agribusiness students, as part of an integrated learning project to make the University's Gatton campus more carbon neutral.
The project has been so successful that UQ's School of Veterinary Science is sourcing additional cardboard waste from local supermarket Spanos SUPA IGA Gatton, to produce sufficient bedding for the clinic.
Store Manager, Jason Rayner, said the collaboration had been extremely positive.
"As a local small business we're always looking for ways to get involved in the community in a positive way," he said.
"Local people shop with us, so we like supporting our community in any way we can, and anything that reduces our carbon footprint and reduces cost, or is cost neutral, is a win-win.
"We're extremely happy to be supporting the Lockyer Valley community, while at the same time creating a more sustainable future and offering learning opportunities to local students at UQ Gatton."
Media: Ms Mariki Visser, m.visser1@uq.edu.au, +61 7 5460 1957; Dominic Jarvis, dominic.jarvis@uq.edu.au, +61 413 334 924.