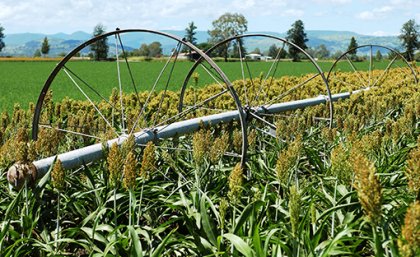 Farmers across the world could soon access disease-resistant crops using technology discovered by researchers from The University of Queensland after Brisbane start-up Nexgen Plants secured $3 million in investor backing.
The Australian biotech company, launched by UQ's commercialisation arm UniQuest in 2013, today received $1.5 million from the Queensland Government's Business Development Fund (BDF), matched by existing investors Uniseed ($500,000) and Yuuwa Capital ($1 million).
Nexgen Plants is commercialising two novel platform technologies developed from research led by Professor Peer Schenk at UQ's School of Agriculture and Food Sciences.
The first is the company's INTtrait technology, which rapidly generates new plant varieties with disease resistance and other important traits in major food, fibre, energy and ornamental crops, essentially speeding up natural breeding.
The second is a virus-resistant technology that can quickly respond to emerging viral threats in key crops, including tomatoes, capsicums, potatoes and sorghum varieties, such as sugarcane.
UniQuest CEO Dr Dean Moss said the investment was a significant milestone and testament to the company's potential future impact on worldwide crop production.
"Crop losses caused by disease or environmental conditions like drought are a significant global problem and cost billions of dollars every year," he said.
"This investment in the research and technology being developed by this innovative Brisbane company is evidence of its potential future impact for farmers and producers right across the world.
"It is fantastic recognition of the depth and capacity of Queensland research to not only drive innovative solutions to emerging global problems, but to translate that research so it can benefit the lives of people around the world."
Nexgen Plants Director Brian Ruddle said the investment would help the company develop new international leads, as well as strengthen ties with plant biotech companies and breeders in the United States, Europe and Asia.
"With the investment from the BDF, Uniseed and Yuuwa, and the appointment of a CEO with international industry experience, the company will now ramp up international business development and look to expand global customer engagement through multinational clients such as Syngenta, which produces agrochemicals and seeds," he said.
Mr Ruddle said Nexgen Plants recently appointed Dr Philippe Herve as CEO.
Dr Herve has 20 years of international experience in the food and agriculture sector, having previously worked for Bayer Crop Science and plant genomics companies.
Nexgen Plants recently had a salt-resistant variety of rice approved by the US Department of Agriculture as non-genetically modified and is currently awaiting approval from the Australian Office of Gene Technology Regulator to determine the availability of new breeding techniques to Australian farmers.
Media: Brooke Baskin, UniQuest, b.baskin@uniquest.com.au, +61 (0) 409 767 199; Brian Ruddle, Nexgen Plants, b.ruddle@impactinnovationgroup.com, +61 (0) 407 169 979.